Bread Workshops
Garry Baker teaches bread making workshops through the Sonoma Valley Adult School. Garry studied bread making with author and bread maker, Peter Reinhart, and Craigs Ponsford, Artisan Bakers.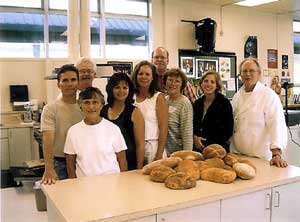 Pizza Party
Learn to make thin crust pizzas, focaccia, breadsticks and more in a hands-on Saturday workshop.We will discuss tools, methods, where to find the best ingredients and have fun while sharing delicious food. Class members bring sidedishes to share and we will feast on a variety of pizzas for lunch.
9:30 am to 3:30 pm
Saturday, December 12, 2004
Sourdough
Fermentation is used to start the many delicious breads we will creating in class. Rustic style breads that yield beautiful results. Classic sourdough, rye bread, breads with olives and mushrooms, potato rosemary bread in many shapes and sizes to delight your palate.
Class members shares a meal mid-day accompanied by the first round of baked breads.
9:30 am to 3:30 pm
Saturday, September 19, 2004
Resgister for Class
If you have any questions about the workshops, please call Garry at 996 5237 or send him an e-mail.
Advanced registration is required. Contact SVAE at 707.933.4033 to reserve your space in class.